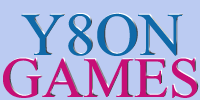 War Games

blob wars
Blob wars is a fun game for kids.You can play the doubles were the simple blobs.Gain control of the board by atacking your opponents blobs and converting them to your own.


(Played 98 Times)

dwarf on the wharf
Dwarf on the wharf is a game that two dwarfs and giants where the aim of the game is to push it and send the dwarf as far offshore.


(Played 95 Times)

war bears
Heaven Bears captured the family of people in a good building.The bear goes into action to destroy these simple bear heaven for release hostage.Use those swords to defend yourself from those hated very bad.


(Played 110 Times)

Category Description

War games online for all children who want to play the hottest games.Participate in numerous wars in which these games are recreating the old wars and new wars in the past but to conquer things.All these war games will make fun of each child whether to have a boy.

Copyright © 2013

Play Free Online games on y8ongames.com

. All games and descriptions copyright © to their respective owners. All rights reserved. .